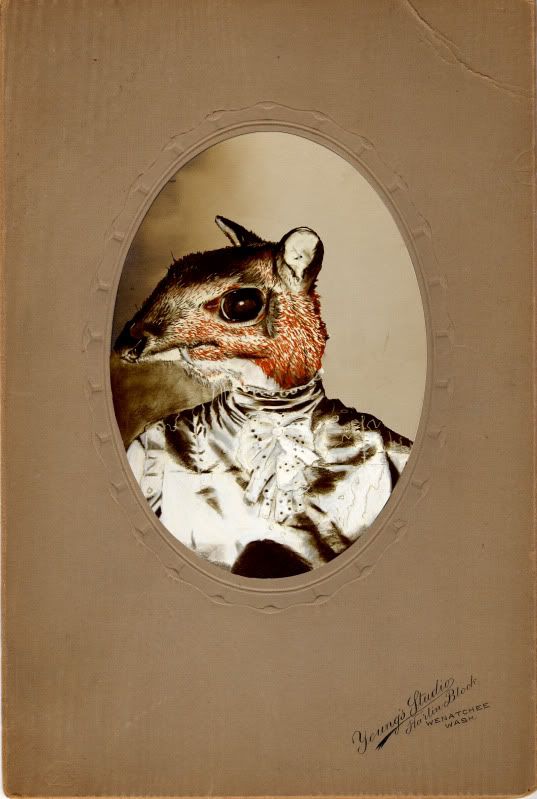 Ladies and Gentlemen, allow me to introduce Abigail, the Lesser Mouse Deer. Abigail is not the model of a distinguished lady that society might hope for, but I promise it is through no fault of her own. She has suffered much hardship and turmoil in her life that has shaped and molded her into the untrusting and embittered woman you see before you.
Abigail was an only child. Her mother, the wife of a cotton farmer, died during child birth leaving Abigail to be raised by her alcoholic father on the plains of Tuscaloosa, Alabama. Resented by her father for both her mother's death, and not being a boy to teach his trade to, Abigail was neglected and often visited her aunt in Birmingham where she was exposed to a wealth of European literature and poetry. Eventually when she was fourteen her father remarried and raised a new family, sending Abigail to her aunt's for good, which was perfectly fine with her. She got a job as a waitress in a nightclub and occasionally experienced moments of what she thought might have been happiness, at least as it was described in the books she'd read.
One night things took a turn for the worse. During one of her late night shifts, Abigail received some unwanted attention from a well dressed man at the night club, whom she politely put him off and went on with her business. However, later that night as she left she found him lingering outside of the club, drunk, and waiting for her. Passes were made and refused and when voices escalated a struggle broke out. The man was quite inebriated and thus Abgail managed to thrust him on the ground and make a getaway back to her aunt's house. It wasn't until the next day that she found out the man was the Senator's son, and when he fell in the alley he was punctured by shards of metal debris and slowly bled to death. The whole town was looking for his killer, and the police had started questioning the workers of the nightclub. Panicked and afraid of being arrested for his murder Abigail pooled all her possessions and hopped the first train to New Orleans, and then a London bound ship where she would arrive weeks later, broke, tattered, and lost. Over time she learned what she needed to manage on the streets of England. She's taken to thieving and trickery to stay alive, but lives in fear of the ghosts of her past and quietly dreams of a better life.
Photoshop aided so much in the production of this final piece that I would be remiss if I did not include a copy of the drawing in it's original state. To be honest this was more of an experiment to see how these portraits would look on a larger scale and in charcoal. I'm still working out the kinks, but I'd like to keep doing these bigger. Charcoal is just a bit frustrating because I can't get the level of detail I'd like. I'm sure I'll figure something out though....