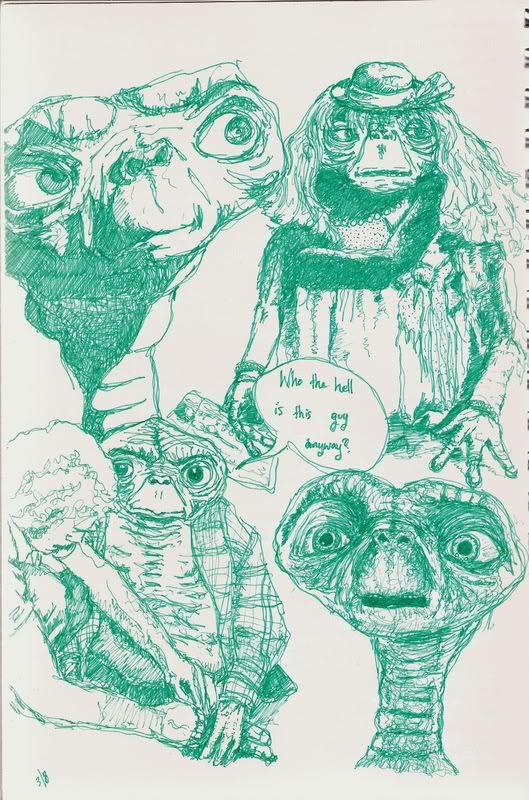 E.T. has been rather prevalent in my life lately, which is strange considering the movie is 27 years old.
Over 5 years ago I bought some ridiculous "E.T. Ultimate Gift Set" at Costco which includes a book on the making of E.T., two versions of the film, the soundtrack, a certificate of authenticity, and a frame from the film. Now, why I felt I needed to own the "Ultimate Gift Set" is beyond me. Especially considering that I never once watched the movie after I bought it until very recently. I also now have a thrift store E.T. puzzle (2 pieces missing), and a vintage E.T. pillowcase given to me for Valentine's Day (thanks Swoops).
For one reason or another this alien has stuck around and continued to have an impact on people throughout the years. A few things I've noticed upon the latest viewing:
- the added CG to the 2002 version is lame and completely unnecessary.
- Reese's Pieces should be forever grateful to the film for keeping them alive. Sales went up 65% after the movie came out. Do you ever think of the candy without thinking of the movie? I didn't think so. That's great marketing.
- E.T. is a lot of fun to draw and surprisingly easy.
- All the kids in the movie dress fucking awesomely and make me want to only dress like cast members of E.T. from now on. Following are the only pictures I could find that even partially illustrate my point.
I'm still working on that wedding invitation and will hopefully have something to post shortly.